Private Fleet Trucking Company Advantages in 2023
Private trucking fleets in the transportation industry have their advantages. When you're searching for the best trucking company to work for, choosing a privately-owned fleet over a for-hire carrier could make your life on the road much easier. See the basics of private fleet trucking and the unique advantages private trucking companies have in today's economy.
What is Private Fleet Trucking?
Private fleet trucking is when a shipper owns an in-house team of trucks primarily used to transport its goods to warehouses, stores, and customers. According to the National Private Truck Council (NPTC), private fleets are operated by a separate company in service to a parent company whose business is not primarily trucking. The parent company's primary business is often manufacturing or retailing.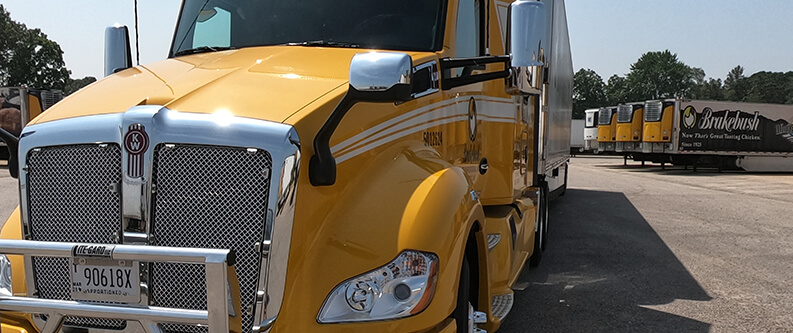 Advantages of Private Company Fleets to Shippers
Guaranteed capacity
End-to-end network visibility
Improved customer service
Ability to meet specialized equipment needs
Increased brand exposure
Greater safety performance
How a private fleet promotes parent company growth
Having a private, in-house trucking operation gives the shipper the greatest control over managing their fleet. The shipper can more easily make internal management adjustments to lower costs and improve the quality of service from their fleet.
Since the shipper has complete ownership of the fleet, the parent company's branding can be expanded using custom truck wraps and drivers in uniform. The shipper can also hire and train their own drivers, who use their increased knowledge of the parent company's products and services to provide added customer service over leading for-hire carriers.
What is the difference between a private carrier and a for-hire carrier?
The differences between private fleets and for-hire carriers come down to who owns the truck and employs the driver. For-hire carriers do not own the cargo they transport. They instead are paid to transport the cargo of companies who are outside their organization. A for-hire carrier does not have a fleet of in-house trucks and instead employs drivers, known as owner-operators, who own their own trucks to transport loads. Private carriers transport their own cargo, usually from the parent company, with their own truck fleets and in-house drivers.
Advantages of Private Company Fleets to Drivers
Driving for a trucking company with a private fleet has rewarding advantages. One of the biggest standouts is driver value. Since privately employed truck drivers play a consistent role in transporting the cargo of a single-parent company, they are rewarded with traditionally above-average pay and a lower turnover rate compared to industry averages. Driving for a private fleet additionally offers drivers the opportunity to interact with customers and build greater rapport with distributors.
Get a Private Fleet Driving Job at Brakebush Transportation
Since 1925, Brakebush Transportation has been a privately owned trucking company transporting Brakebush poultry products across the United States. Our great pay, full benefits package, and attractive driver bonuses have made us one of the best private fleets to drive for in the country. We're a family-owned company that puts a strong emphasis on valuing the men and women who drive our trucks and make Brakebush what it is today. Even with rising fuel costs, ongoing supply chain issues, and driver shortages across the industry, we recently raised our driver salary structure to accommodate recent growth. See more on our driver benefits below.
Frequently asked private fleet questions
What is a private fleet in trucking?
Private fleets are in-house trucking operations incorporated as a separate company of a parent company. The parent company's primary business is more often than not manufacturing or retailing and not transportation.
What is the advantage of private trucking?
The advantages of private trucking for a transportation company are greater control over the shipping process, improved customer service to vendors, reduced risk of damaged or lost goods, increased flexibility with shipments, and added cost savings over third-party carriers.
Why do firms have private trucking fleets?
Many firms have private trucking fleets since they offer more direct control over the operation than for-hire carriers. A firm may also have a private fleet to further promote its parent company's brand, gain greater network visibility, and meet specialized equipment needs such as reefer trucks.
Why will some firms prefer to use their own fleet of vehicles for the distribution of their goods?
Firms will prefer to use their own fleet for distributing their goods since private fleets can be a more cost-effective solution over outsourcing transportation. This is due to the parent company's increased control over the operations of the fleet.
What is the reason private fleets have better driver retention?
Private fleets have better driver retention due to drivers having added stability in work demand, more job security, better work conditions, more familiarity with customers and routes, and a stronger company culture.